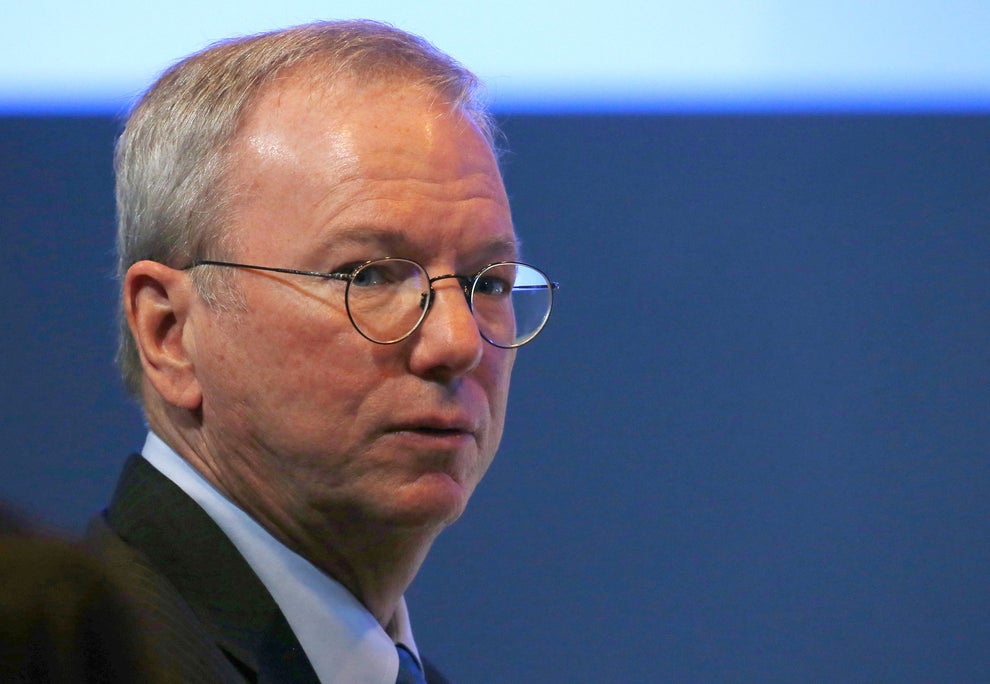 Eric Schmidt, former CEO of Google Ruben Sprich / Reuters
Eric Schmidt, the executive chairman of Google's parent company, told an audience of Google employees on Thursday that the Trump administration is "going to do these evil things as they've done in the immigration area and perhaps some others."
Schmidt's remarks were made during the company's weekly meeting at its headquarters in Mountain View, California, on January 26, when reports were surfacing about the sweeping immigration order that President Donald Trump would sign the next day.
Google's corporate mantra for many years was "Don't be evil." Schmidt, the former Google CEO, now chairs its parent company, called Alphabet.

Schmidt's opposition to Trump's immigration policy is noteworthy because Schmidt has at least twice traveled to Trump Tower to meet with the president and his advisers, but has struggled to gain a foothold in Trump's circle. He had close ties to the Obama administration and supported Hillary Clinton's campaign for president, facts not lost on Trump's advisers.
BuzzFeed News obtained a partial transcript of Schmidt's remarks during the meeting. Three others familiar with the matter confirmed the accuracy of the "evil" quote.

"I can tell you that the tone of this government is very much economic growth," Schmidt told employees, according to the transcript provided by a source. "And so I think at the end of the day, they are going to do these evil things as they've done in the immigration area and perhaps some others, but the core focus is going to be to get the growth rate in the country — which is roughly one-and-a-half to two percent — up another point by simply pushing through increases in federal spending and overcoming the tea party."
A Google spokesperson declined to comment.
Sergey Brin, the Google co-founder, has made his opposition to Trump's policies more public. He joined protests against the immigration order at San Francisco International Airport over the weekend and at Google's Mountain View campus on Monday. "I'm here because I'm a refugee," he said on Saturday night, according to Forbes' Ryan Mac. (Here is a transcription of Brin's remarks on Monday.)


Like many Silicon Valley corporations, Google's response to the immigration ban seemed to become progressively more forceful over the weekend. On Sunday night, the company announced a $4 million crisis fund donated to the ACLU and other immigration causes.


Before this weekend, Google had justified its meetings with Trump by arguing that it was better to work behind the scenes than make public statements that could alienate people the company needs to work with. "But meeting with Trump was a public statement," one Google employee told BuzzFeed News on Monday. Referring to a "summit" meeting of tech leaders at Trump Tower, the employee continued, "Eric meeting privately with Trump after the summit was a public statement because that was reported on. So they have made public statements, just not ones — before this weekend — that resist the immigration [order.]"


According to an earlier report in Vice about the same meeting, Schmidt told employees that he had tried to fight the immigration order. "These prejudicial actions are discriminatory and anti-globalization, and I did everything I could to cause a different outcome," he said. "There are limits to what we can do, there's no question if the company is asked to do something that's counter to our values, we would oppose it and actively fight it."

Earlier this month, just as Congress began its new session, Google threw a swanky party for 600 people in Washington DC celebrating Republican lawmakers. According to the The New York Times, Schmidt's "East Coast charm offensive" with Republican political leaders is part of Google's effort to dispel the idea that it is a bastion for Democrats.

https://www.buzzfeed.com/williamalden/eric-schmidt-muslim-ban