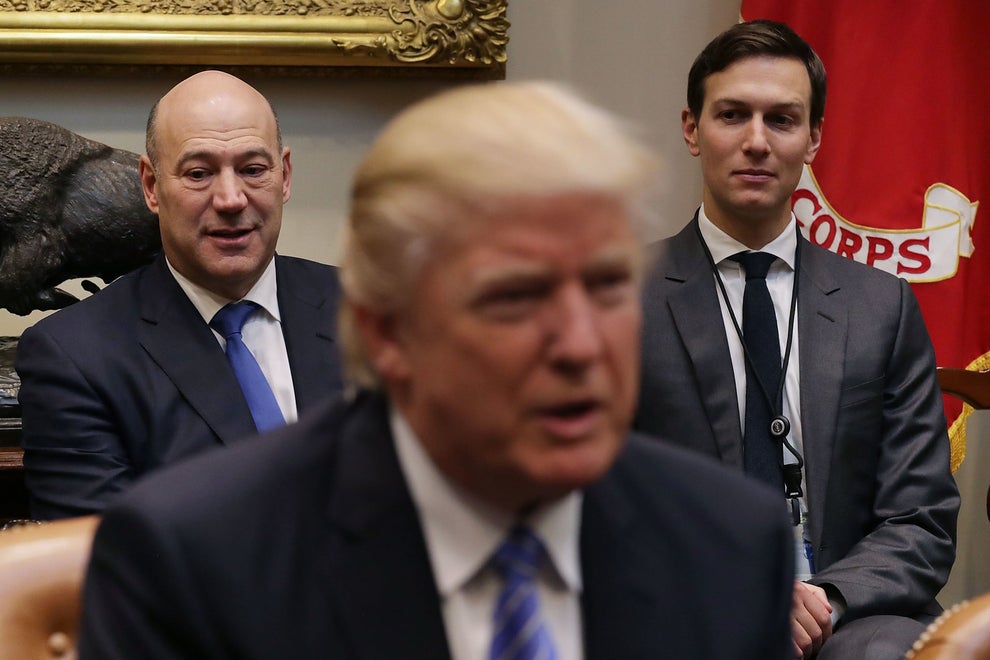 Former Goldman Sachs President Gary Cohn, left, is now a top economic official in the Trump administration. Chip Somodevilla / Getty Images
Goldman Sachs, whose second in command resigned to join the Trump administration, says the immigration ban on people from seven predominantly Muslim countries is "not a policy we support," and one that brings "potential for disruption to the firm."
In a voicemail send to staff on Sunday night — Goldman Sachs is big on communicating via voicemail — CEO Lloyd Blankfein quoted the company's business principles: "Being diverse is not optional; it is what we must be. Now is a fitting time to reflect on those words and the principles that underlie them."
The message of opposition was sent only to Goldman staff, but it shouldn't be hard for Blankfein to get a voicemail through to the White House: Goldman Sachs alumni now staff much of the upper reaches of the Trump administration, including the company's longtime President and Chief Operating Officer Gary Cohn, who left the firm to become the head of Trump's National Economic Council.

Steve Bannon, a former Goldman banker, is now Trump's top strategic advisor and played a key role in developing the controversial new immigration order.
In one photo of Trump discussing the executive order on Saturday, Cohn is shown standing behind the President — he's the one on the far left, with his head bowed.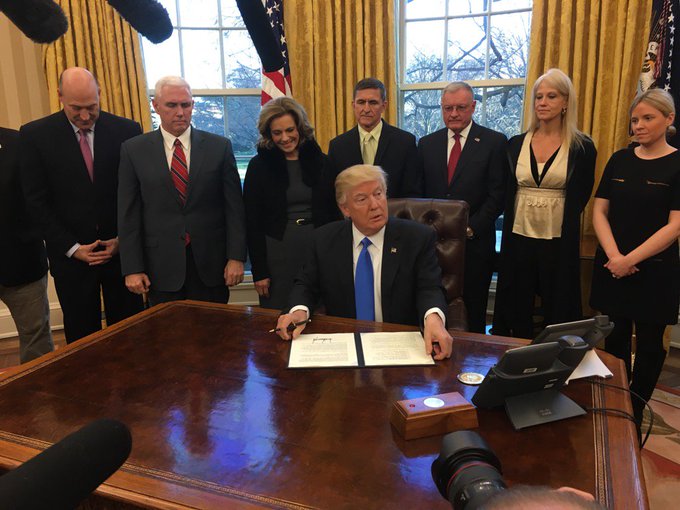 Goldman Sachs was a campaign trail punching bag for Donald Trump, who went on to stock the upper levels of his administration with its alumni. Lloyd Blankfein has in the past donated to Hillary Clinton and has expressed views about immigration typical of the professional executive class.


Elisha Weisel, the bank's Chief Information Officer, said on Sunday that the protests against the immigration ban reflect the legacy of his father, the holocaust survivor and author Elie Wiesel, who died last July. "In the same way he was dismayed at the lack of action over Syria, I think he would have been very disappointed at the direction this country seems to be turning," Wiesel told Bloomberg News.

Matthew Zeitlin is a business reporter for BuzzFeed News and is based in New York. Zeitlin reports on Wall Street and big banks.

https://www.buzzfeed.com/matthewzeitlin/goldman-sachs-says-it-opposes-immigration-ban